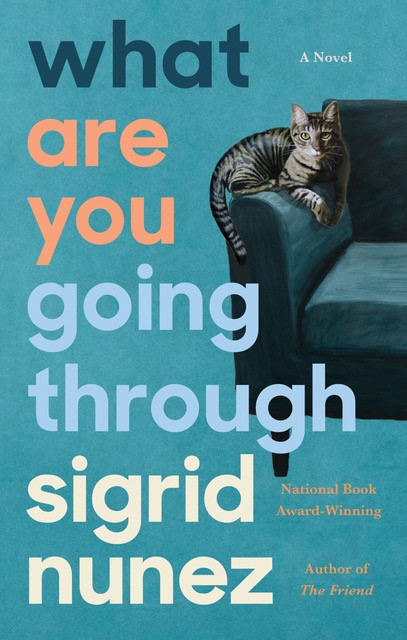 Preorder Sigrid's new novel now!
What Are You Going Through
Coming from Riverhead Books, September 8, 2020 and from Virago in the UK, October 1, 2020
A woman describes a series of encounters she has with various people in the ordinary course of her life. Some, like the old friend she goes to visit at a cancer clinic, are people she knows well; others are total strangers. All share a need to talk about themselves. The narrator orchestrates this chorus of voices, sometimes paraphrasing others' stories, other times allowing them to speak, in extended monologues, for themselves. What emerges is a portrait of the way we live now, in a world endlessly troubled by crises, and the dramatically changing nature of human relationships in our time. For the most part, the narrator assumes the role of a passive listener to her collective storytellers. Then one of them surprises her with an extraordinary request, and she is drawn into what will become an intense and transformative experience of her own.
Advance praise for What Are You Going Through
"Love, death, friendship, compassion & SO MUCH wisdom. I just adore Sigrid Nunez." – Paula Hawkins, author of The Girl on the Train and Into the Water.
"[A] richly interiorized novel. . . . With both compassion and joy, Nunez contemplates how we survive life's certain suffering, and don't, with words and one another." (Booklist, starred review)
"Sigrid Nunez orchestrates a beautiful chorus of humanness here, and the novel asks a question we might all be thinking in these distanced times: What does it mean to really be there for someone in times of hardship?" (Literary Hub)
"Deeply empathetic without being sentimental, this novel explores women's lives, their choices, and how they support one another. . . . Highly recommended for readers who favor emotional resonance over escapism during difficult times." (Library Journal, starred review)
"Nunez returns to many of the topics she mined in The Friend, which won the National Book Award for Fiction in 2018: the meaning of life, the nature of death, writing, the purpose of friendship. [S]pare and elegant and immediate … the novel is concerned with the biggest possible questions and confronts them so bluntly it is sometimes jarring: How should we live in the face of so much suffering? Dryly funny and deeply tender; draining and worth it." (Kirkus, starred review)
"Deceptively casual and ultimately fierce. . . .  Much of the novel's action is internal, as the attention of its . . . narrator flicks from books to movies to sharp-edged thoughts about the people she encounters, offering plenty of surprises. Those willing to jump along with her should be tantalized by the provocative questions she raises." (Publishers Weekly, review)
Read about Sigrid and her new novel in this profile in Publishers Weekly.
One of Lit Hub's Most Anticipated Books of 2020
One of The Millions Most Anticipated Books of 2020