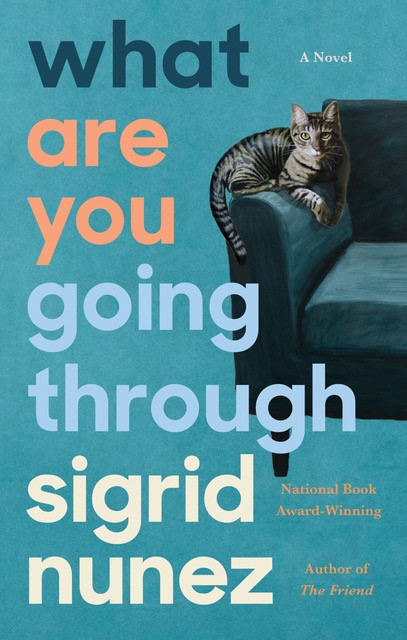 One of People Magazine's 10 Best Books of Fall
Editors' Choice, 9 Recommended Books of the Week (New York Times), Best September Books (Entertainment Weekly), 16 Best Books of September (Kirkus), Best Books of Fall (Observer), 6 Best Books of September (Shondaland), 10 Most Anticipated Releases of September (HuffPost), Best Books of Fall (TIME), 21 Best Books of Fall (BuzzFeed), 5 Books Not to Miss (USA Today), Best Books of September (CNN)
What Are You Going Through
Riverhead Books, September 8, 2020 and coming from Virago in the UK, October 1, 2020
AN INDIE NATIONAL BESTSELLER
A woman describes a series of encounters she has with various people in the ordinary course of her life. Some, like the old friend she goes to visit at a cancer clinic, are people she knows well; others are total strangers. All share a need to talk about themselves. The narrator orchestrates this chorus of voices, sometimes paraphrasing others' stories, other times allowing them to speak, in extended monologues, for themselves. What emerges is a portrait of the way we live now, in a world endlessly troubled by crises, and the dramatically changing nature of human relationships in our time. For the most part, the narrator assumes the role of a passive listener to her collective storytellers. Then one of them surprises her with an extraordinary request, and she is drawn into what will become an intense and transformative experience of her own.
Praise for What Are You Going Through
"Love, death, friendship, compassion and so much wisdom. I just adore Sigrid Nunez." Paula Hawkins, author of The Girl on the Train and Into the Water.
"It takes something more than intelligence to be able to write intelligently. It requires something closer to echolocation, an acute sense, in mid-flight, of where you are . . . . Whatever it is, Sigrid Nunez has it. When I open one of her novels, I almost always know immediately: This is where I want to be. . . . "What Are You Going Through" . . . [is] as good as "The Friend," if not better." The New York Times. (Read the full review here.)
"Rereading 'What Are You Going Through,' I was dazed by the novel's grace: its creation of a narrative consciousness that, by emptying and extending itself to others, insured that its vitality would never dwindle, never dim. Nunez had captured what Woolf, in her exquisite story on aging, "The Lady in the Looking Glass," describes as life's 'profounder state of being,' 'the state that is to the mind what breathing is to the body.'" The New Yorker
"Nunez tells the simplest of stories . . . and expands it into an exploration of the largest of themes: nothing less than the realities of living and dying in this world and how we feel about both. Beauty, friendship, nature, art: These are the salves to loneliness and despair, and Nunez offers them all in this searching look into life and death." New York Times Book Review
"A book as luminous as it is deep and as slippery as it is firmly grounded. As its narrator observes, '[N]o matter how sad, a beautifully told story lifts you up.' 'What Are You Going Through' is as beautifully told as they come." Seattle Times
"Emotionally intense and impossible to put down . . . leavened with wit and tenderness." People Magazine
"[A] beautiful portrait of pain and loss." TIME Magazine
"What Are You Going Through explicitly aims for and pretty much manages to hit all of William Faulkner's prescribed goalposts for writers: 'love and honor and pity and pride and compassion and sacrifice.' Nunez has written another deeply humane reminder of the great solace of both companionship and literature." NPR 
"There was a profound textual pleasure in The Friend and there is in What Are You Going Through, too. It's not just that these books feel 'real' in that the things that happen in them could happen in life; the narrators' struggle to think and write and make sense of these experiences feels real." Bookforum 
"[A] touching, poignant illustration of what it means to have empathy for the lives around you. It is especially apt, given how the book is published during a time of collective mourning." USA Today
"Nunez is both direct and yet incredibly subtle as she traces choices we make when faced with questions of sustainability and end of life care in this powerful novel." Observer
"Told with her singular sensitivity and wit, What Are You Going Through is a quietly powerful testament to Sigrid Nunez's ability to render even the most emotionally ruinous events with intimacy and grace — there is no better chronicler of empathy . . . This book is profound, devastating and uplifting all at once." Refinery29
"[A] richly interiorized novel. . . . With both compassion and joy, Nunez contemplates how we survive life's certain suffering, and don't, with words and one another." Booklist, starred review
"Sigrid Nunez orchestrates a beautiful chorus of humanness here, and the novel asks a question we might all be thinking in these distanced times: What does it mean to really be there for someone in times of hardship?" Literary Hub
"Deeply empathetic without being sentimental, this novel explores women's lives, their choices, and how they support one another. . . . Highly recommended for readers who favor emotional resonance over escapism during difficult times." Library Journal, starred review
"Nunez returns to many of the topics she mined in The Friend, which won the National Book Award for Fiction in 2018: the meaning of life, the nature of death, writing, the purpose of friendship. [S]pare and elegant and immediate … the novel is concerned with the biggest possible questions and confronts them so bluntly it is sometimes jarring: How should we live in the face of so much suffering? Dryly funny and deeply tender; draining and worth it." Kirkus, starred review
"Deceptively casual and ultimately fierce. . . .  Much of the novel's action is internal, as the attention of its . . . narrator flicks from books to movies to sharp-edged thoughts about the people she encounters, offering plenty of surprises. Those willing to jump along with her should be tantalized by the provocative questions she raises." Publishers Weekly, review
Read about Sigrid and her new novel in this profile in Publishers Weekly.